Sunday, October 16th - 1.30-4pm
Dr. Robert Michale Pyle is something of a living legend here in the Pacific Northwest-- lepidopterist, biologist, teacher, founder of the Xerces Society, sometimes-Bigfoot hunter, and wonderful nature writer. He is deeply devoted to our landscape and the life that proliferates here, & we are honored to be partnering with the Clark County Green Neighbors again to bring you an event with Dr. Pyle in celebration of the Green Neighbors Program's 4th anniversary! Dr. Pyle will be talking about his long & passionate life studying nature in the Northwest & beyond, and many of his books will be available for purchase and to be signed, including Through a Green Lens: Fifty Years of Writing for Nature, which will be newly released at that time.
Join Vancouver Community Library in celebrating the winners of the 2016 Imagined Ink teen writing contest. Two-time Newbery Honor-winning author and National Book Award Finalist Gary D. Schmidt will be our special guest and awards presenter on October 22nd at 2pm.
Gary Schmidt is a professor of English at Calvin College in Grand Rapids, Michigan. He received both a Newbery Honor and a Printz Honor for Lizzie Bright and the Buckminster Boy and a Newbery Honor for The Wednesday Wars
Library events are free & open to the public. No registration is required. Questions can be directed to them at 360.906.5000.
With Angela Sanders on Oct. 9th at 3pm
Join us for The Sunday Sessions on October 9th at 3pm for a mini workshop with Angela Sanders on Writing a Series: Five Things I Wish I'd Known.
About the Author:
Storytelling is a way to appreciate life.
I'm privileged to have interviewed scores of fascinating people, from a shrimp fisherman pioneering sustainable fishing to tribal officials struggling for federal recognition, and from an entrepreneur selling mass tarot card readings on the internet to a forty-foot tall talking statue of Paul Bunyan. Along the way I learned that everyone has a story if you're willing to listen.
I give the best part of my day—that calm few hours early in the morning when the birds are waking up and my subconscious is fresh from a night with the Sandman—to writing fiction. Specifically, I write crime fiction geared to women who like down-to-earth glamour shaken with intelligence, wit, and not a lot of gore.
Any questions about attending can be directed to vbwritersgroup@gmail.com
Past Sessions:
– January 2016 Carolyn J. Rose on The Importance of Opinion, Attitude, and Style
– February 2016 Kate Dyer-Seeley on How to Find an Agent
– March 2016 Mary Elizabeth Summer on Diversity Matters: How to Write From the Other Perspective
– April 2016 Cindy Brown on How to Be Funny on the Page (even if you're not in real life)
– May 2016 Phoebe Rose on First Pages: Grounding the Reader, Strong Pacing and Killer Hooks
– June 2016 Paula Stokes, Fonda Lee, Mary Elizabeth Summer and Jennifer Bosworth on a panel about writing.
– July 2016 - Break
-- August 2016 Jane Elder Wulff on The Art of Interviewing: Listening for Story.
-- September 2016 Hannah Dennison on Taking the Mystery out of the Mystery: Jump-start your novel!
To Come:
-- October 2016 is Angela Sanders on Writing a Series: Five Things I Wish I'd Known
-- November 2016 is Erik Wecks on Creating Authentic Characters
-- December 2016 is Christine Fletcher on I Couldn't Put It Down! Using Conflict to Hook Your Readers
Join a book group hosted by Vintage Books!

Are you itching to discuss books? Want some stimulating conversation? Join the Who picked this book? Book Club. They meet on the 3rd Sunday of each month from 3-4pm. Members receive 10% off new copies of the selected titles here in the store! Click the image to check our stock.

Prospective members do not need to RSVP to meetings and are encouraged to simply show up if they would like to join or just observe!

The next book selected is:

Who Picked this Book? Book Club will discuss H is for Hawk at their October meeting, on Sunday 10/16 at 3pm:

The instant New York Times bestseller and award-winning sensation, Helen Macdonald's story of adopting and raising one of nature's most vicious predators has soared into the hearts of millions of readers worldwide. Fierce and feral, her goshawk Mabel's temperament mirrors Helen's own state of grief after her father's death, and together raptor and human "discover the pain and beauty of being alive" (People). H Is for Hawk is a genre-defying debut from one of our most unique and transcendent voices.

Future selections:

November 20th at 3pm

The Alchemist by Paulo Coehlo

December 18th at 3pm

The Book Thief by Markus Zusak

January 15th at 3pm

Devil in the White City by Erik Larson

February 19th at 3pm

So You've Been Publicly Shamed by Jon Ronson

March 19th at 3pm

Amy Falls Down by Jincy Willet
Welcome to Vintage Books
No front page content has been created yet.
We have signed copies of The Trouble In Me by Jack Gantos!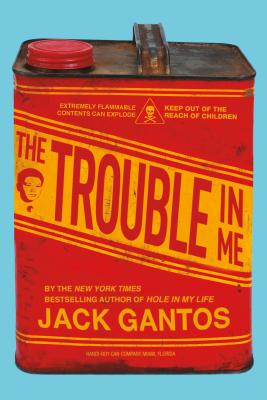 Fourteen-year-old Jack is sick of his old self. When his family moves to a new rental home in Fort Lauderdale, he wants to become everything he's never been before. Then in an explosive encounter, he meets his new neighbor, Gary Pagoda, just back from juvie for car theft. Instantly mesmerized, Jack decides he will do all it takes to be like Gary. As a follower, Jack is desperate for whatever crazy, hilarious, frightening thing might happen next. But he may not be as ready as he thinks when the trouble inside him comes blazing to life.

Inspired by a true summer misadventure the author "did my best to forget," The Trouble in Me is a deeply personal novel that captures the ways in which young Jack Gantos first began to slide off track—a slide that in just a few years would culminate in his being locked up in federal prison for the crimes portrayed in the acclaimed memoir Hole in My Life.